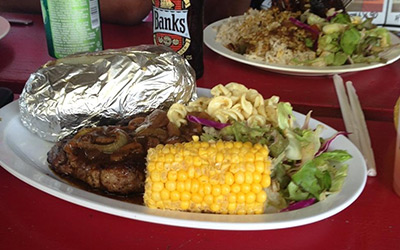 Mouth-watering Meals
We offer tasty lunches and dinners that are served on time and with love.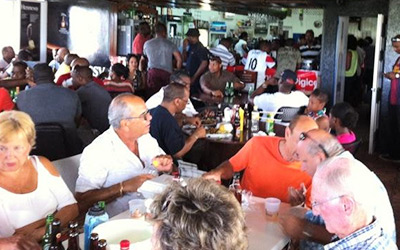 Catering Services
Our restaurant also provides efficient and cost-effective catering services.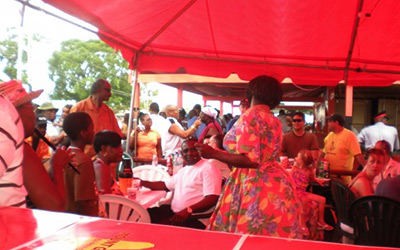 Event Planning
We help you plan your special occasions, galas and events in a grand style.
Who We Are
At the Village Bar the food is strictly Bajan, from recipes handed down from generation to generation. Located in the parish of St. John, this neighbourhood style restaurant with its rustic setting and breathtaking views of the Atlantic, offers pork prepared in several different ways.
Every customer is treated well and looked after by our warm and friendly staff. Each meal is prepared with perfection and served with love. At our St. John spot, you will have a myriad of options to choose from such as pudding and souse, grated savoury steamed sweet potato either in sausage form or as a scooped ball on a plate, served along with pork steeped in a delicious pickle of cucumbers, onions, finely chopped green and ripe chillies and lime juice.
Our most sought- after dishes include rice and peas, grilled fish, spicy stew of beef or pork, barbeque, baked or fried chicken, salad served in a one take-away container. So whichever direction you take from Bridgetown, we believe that the trails will take you down to our tempting world filled with exotic meals just waiting to be discovered.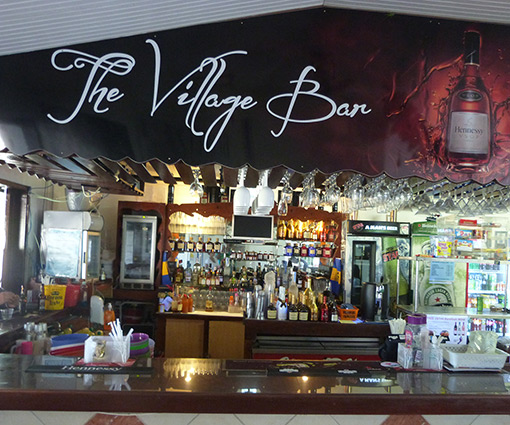 Do you know what people are saying about The Village Bar?
Great location with amazing view of the St. John Valley. Friendly staff, and very good food. If you're looking for authentic Bajan dining experience, visit on a Saturday around midday, and have some of the local delicacy known as souse.
Lindsay F
When in Barbados this is the place to go if you want great pork with friends or your loved one. When I'm there I always have a great time and I usually get the baked pork with a local beer called 'banks' beer. A lot of locals frequent this place do you know it has to be good.
Asokore